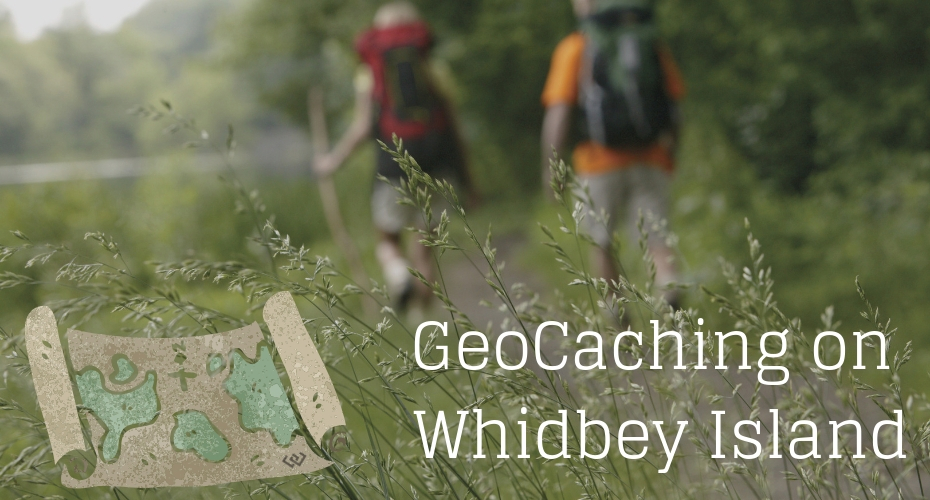 Geocaching on Whidbey Island
Why is Whidbey Island the Perfect Place?
It is no secret that Whidbey Island is an astonishingly beautiful place. It's the kind of atmosphere that draws you outside to enjoy the many state parks and breathtaking beaches. Countless trails dot the landscape all across the island. These trails and parks are what make Whidbey Island the perfect place for one very special activity: geocaching.
View this post on Instagram
What is Geocaching?
Geocaching is a hobby that has been around for almost twenty years, following the significant improvements on the global positioning system. The concept of the game is simple; go to a location indicated on your app/GPS, find the hidden treasure, re-hide and repeat. Geocaching's simple, yet successful, concept attracts millions from across the globe to get outside and participate.  On Whidbey Island alone there are over 300 caches!
View this post on Instagram
From the Geocachers:
We asked a few Geocachers about the draw to the hobby and they gave us a wealth of knowledge.
Sandra, a long term Geocacher, expressed "so many activities today [are] related to being indoors and sedentary in nature," but she believes breaking that trend is what brings people to the hobby.
"Geocaching [is] directly related to being outside, the benefits are exercising your brain and your body! I've also been introduced to wonderful like-minded people who enjoy adventures."
Bill, a fellow Geocacher, echoes every word of Sandra's beliefs in the benefits of Geocaching. Asked why he started he simply said, "it was a way to get out!" As a retired man Bill is grateful to have geocaching for a hobby. Its something that keeps him active, helps him meet new people and discover new places.
So how easy is it to get into Geocaching?
Step 1: Download the App
This is the easiest part! Both iTunes and Google Play offer Geocaching as a phone app. All you need to do is search for it and download.
Step 2: Set Up a Profile
Setting up a profile allows you to save those caches you have already found and will start to develop statistics after you've been participating for a while.
Step 3: Start Finding Caches!
The app will immediately give you directions to the caches nearest you. You will follow it to the location and after that you are mostly left to find the treasure.
We Gave it a Try:
We decided to give it a try ourselves and it was great!  We discovered there was a geocache right next to our Coupeville office. When we got a little lost and confused, we found out there was a helpful hint to guide the way. After a little snooping we found a tiny pill box with the visitor log!
Overall it was a pretty great experience and we can't believe there are SO MANY more caches to find and places to discover on Whidbey Island! Sandra stated it best, "Whidbey Island is a magical place to live and geocache in… I loved discovering the "Mother of All Erratics" in the Saratoga Woods near Langley, (as well as) new trails and Dugualla State Park on North Whidbey, and secret places in Deception Pass State Park.  We have lived on Whidbey almost 38 years and all of those places and more were discovered through geocaching!"
Go get out there and explore!
You Might Also Like: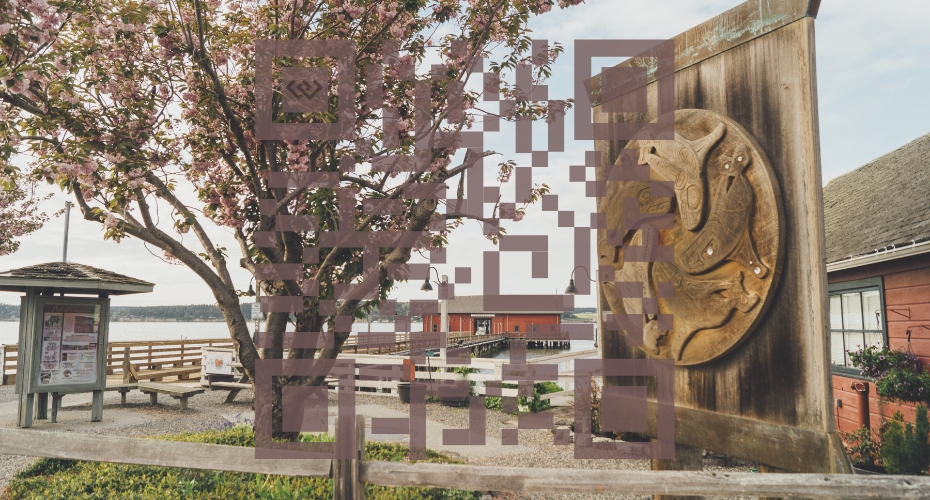 QR Codes Connecting Us to History
Coupeville:
It's of no surprise to anyone that Whidbey Island is home to some fascinating and wonderful towns each with their own history and culture. Perhaps the most intriguing is Whidbey's oldest town and home of the first Whidbey Island settlement, Coupeville.
Coupeville is an adorable waterfront community rich in history and culture. In 1850 Issac Ebey became the first official Whidbey Island settler when he applied for the first land claim on the island. Claiming over 600 acres of what is now Ebey's Landing, Ebey was soon to be followed by his nephew and many others. By 1854 there were 29 settlement claims in Coupeville alone and in 1881 it officially became the Island County seat.
Preservation:
Although all of Whidbey is covered in fascinating history, Coupeville is unique in its preservation. Where many of the original buildings of Oak Harbor and Langley have been torn down or decimated by historic fires, downtown Coupeville's original buildings remain intact and in use. In fact, the town of Coupeville has more historic buildings in a condensed area than anywhere in the Pacific Northwest.
Technology:
To celebrate this fact and educate people on these beautiful historic buildings, Island County's 4-H club took on the project of using modern technology to connect us to the past. Next time you're in downtown Coupeville, take a closer look at those historic store windows. You might just see one of these:
Scattered down Front Street are tons of these QR codes leading to the Coupeville Historic Waterfront Association website developed by the 4-H club in 2012. This website is full of information gathered from the Island County Historical Society, City Records, and over 100 personal interviews with people recounting memories and stories of the historic downtown. Each building's QR code will lead you directly to that building's history: when it was built, it's original purpose, and the different stores that have occupied the space.
So, the next time you are strolling down Font Street whip out that smartphone of yours and learn a little bit of history along the way.
You Might Also Like: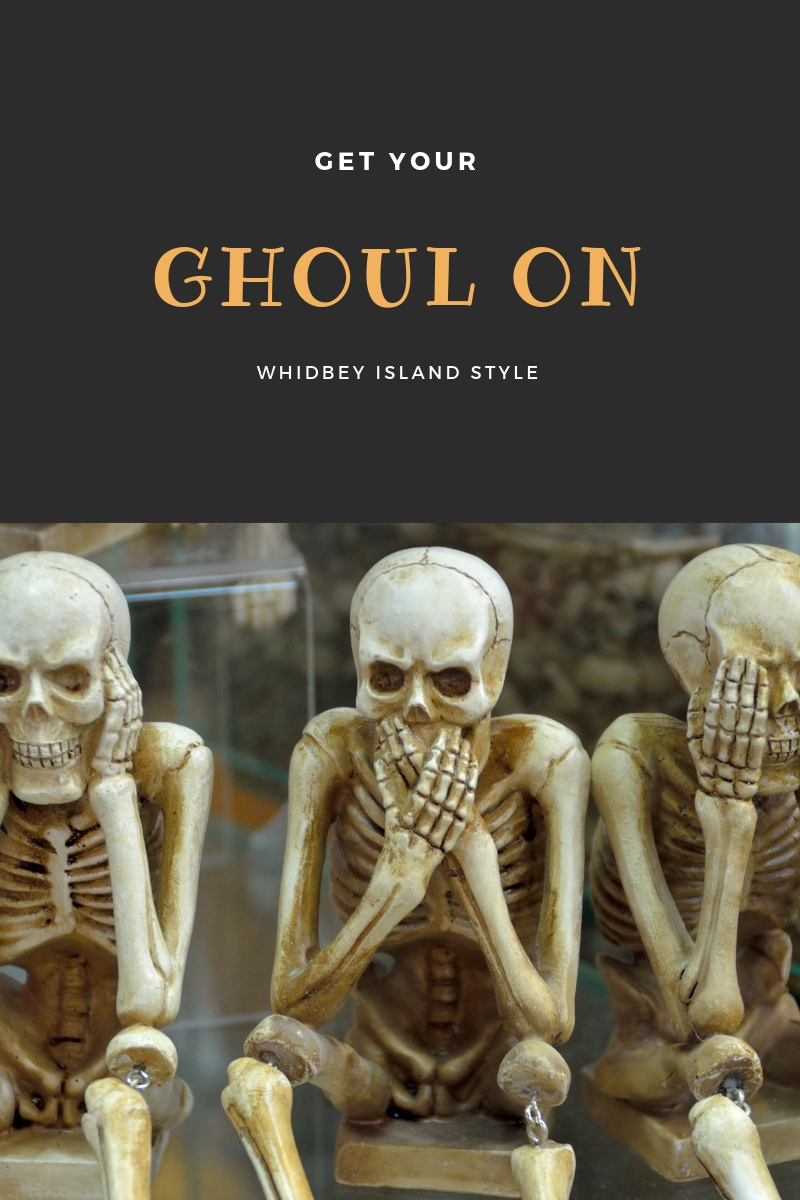 Get Your Ghoul on:
Whidbey Island Style 
If you have found yourself strolling the streets of Coupeville recently, you might have noticed some spooky spirits lurking about. Don't worry! These ghouls aren't out to get you but instead, they welcome in the Halloween season.
View this post on Instagram
October 1st marked the beginning of the annual Haunting of Coupeville. Five years ago the City of Coupeville's Chamber of Commerce decided the town's holiday spirit and Spooktacular events deserved an overarching identity.
Thus, The Haunting of Coupeville was born!
Every year from October 1st – 31st the Haunting includes not only fun town decorations but events that are enjoyable for the entire family!
Enjoy the weekend picking pumpkins and taking trolley rides at Sherman's Farm; but be careful, the barn is haunted!
On the 24th Potterhead's can enjoy a Dark Arts Dinner Party at Front Street Grill complete with appetizers, potions, and maybe even some Butterbeer.
Enjoy exploring Haunted Fort Casey on the 26th-27th where children are invited to participate in Trick or Treat Lane, games, ghost stories and a bounce house.
Coupeville's Great Pumpkin Race on Sunday the 28th serves as a grand finale to the festivities. Watch as participants race their handcrafted pumpkins down front street tin hopes to win the champion trophy.
Young or old, this season holds events that anyone and everyone can enjoy. So get your ghoul on this Hollows Eve in the beautiful town of Coupeville.
View this post on Instagram
For more information about the Haunting of Coupeville visit: www.HauntingOfCoupeville.com
You might also like: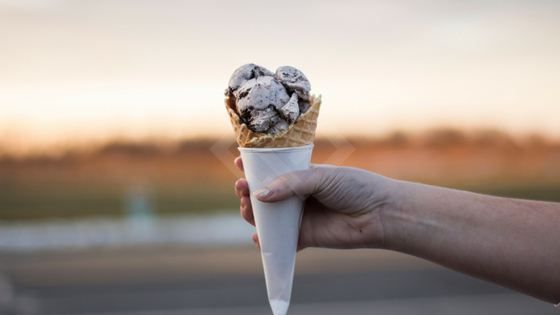 Summer Time Sweet Treats
What do you do to keep cool in these hot summer months? One of our favorite things is to head out for a cold and sweet treat! Thankfully, Whidbey is home to some amazing places for just that!
KAPAWS Iskreme – 21 Front St NE, Coupeville
One of Whidbey Island's best-kept secrets, KAPAWS is a favorite stop for some amazing ice cream and quaint small-town atmosphere. We highly recommend grabbing one of their fresh waffle cones that you can smell a mile away. The best part is their $1 kid cones – for kids only! Open 7 days a week from 11 am to 5:30 pm, KAPAWS offers friendly service, generous portions, and reasonable prices that won't disappoint!
Ciao – 701 Main St N, Coupeville
You may be surprised to learn that Ciao isn't just about the amazing pizza. Every day, gelato is made in-house from a recipe created in the 1700's! Made from milk rather than cream gelato sports a velvety texture that will make your taste buds dance. Stop by Monday through Saturday 11am-8pm to try out one of their many flavors. We especially love their Affogato, which is gelato floated in espresso! Yum!
K&R Farms "The Stand" – 36699 SR 20, Oak Harbor
If you've ever driven toward Anacortes, you probably noticed the farm stand on highway 20. K&R Farm's "The Stand" is a favorite stop for local produce, fresh beef, ice cream, and many other tasty delights. Recently, The Stand started serving Hawaiian shaved Ice and it has been a big hit! Hawaiian shaved ice differs from your run of the mill snow cone because of the soft snow-like texture that absorbs all the flavor of the syrup and makes for a refreshing treat! You can visit the stand 7 days a week from 11 am to 6 pm.
Toppins – 32650 SR 20 A101, Oak Harbor
"Frozen yogurt your way" is our favorite way to describe Toppins. With 12 different frozen yogurt flavors and 80+ topping choices, all self-serve, you can create your own dessert masterpiece. What's even better is that it doesn't stop there! Toppins also offer's floats made with your frozen yogurt flavor choice. We really enjoy their pineapple float with its refreshing flavor that is perfect for summer. You can stop by for your cool off treat from 11 am to 10 pm Monday through Saturday and 11 am to 9 pm on Sunday.
Café de Lisio – 957 Ault Field Rd, Oak Harbor
It may be easy to miss, but Café de Lisio is famous locally! Their "mile-long" menu of creative combinations for all their delicious coffee drinks may be overwhelming so just tell the barista what you're after and they can suggest one for you. Everything can be done icy cold and kid friendly! Our favorite cold menu item is the Attitude Adjuster, and trust us, you will not be disappointed. The café and drive through are open from 5am-6pm Monday through Friday and 6am-5pm Saturday and Sunday for your convenience.
If you liked this blog, you might also like: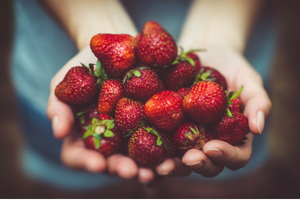 UPick Berries
There is nothing that will make you appreciate delicious berries more than the sweat and work that goes into picking them. Working for those juicy goodies will only make them taste even better, and that's why we love the opportunity to visit local farms for their U-Pick berry events. There are several farms on Whidbey Island that give you the chance to take the family and pick your own strawberries, blueberries, and raspberries!
Bell's Farms: 892 West Beach Rd, Coupeville.
Bell's Farms is practically famous on Whidbey Island for their plump and juicy strawberries. They host the annual Strawberry Daze Festival where you can not only pick strawberries, but also enjoy a glass of strawberry lemonade and other delicious strawberry treats while you are there. Bring the kids they have a petting zoo and fun activities too! UPick strawberry season can vary so follow their Facebook page for real time updates.  https://www.facebook.com/Bells-Farm-164501900234634/
Bonnie's Blueberries: 4414 N Jones Rd, Oak Harbor.
Boasting of 75+ year old blueberry bushes, Bonnie's Blueberries is the perfect place to pick your own fresh Rubels, Atlantic, and Jersey blueberries. This small, mother and son run business is a favorite in Oak Harbor due to their welcoming personalities and of course the delicious blueberries! Their blueberry season typically runs somewhere around July 1st through September 31st, however the blueberry crop is totally dependent on mother nature. For updates on Blueberries and when they will be ready, call 360-679-3600. If you just can't' wait that long Bonnie's Blueberries offers frozen berries year-round, just call to place your order!
Hunter's Moon Farm: 935 Bunch Lane, Oak Harbor.
Hunter's Moon Farm, a certified organic blueberry farm, provides the chance to pick a variety of late season blueberries. The farm is open Tuesday, Saturday, and Sunday from 10-4pm and the blueberry season is expected to begin the end of July and run through the middle of September. To stay up to date on their season and other happenings around the farm, you can sign up for their mailing list here: http://huntersmoonorganics.com/ . Hunter's Moon is also known for their blueberry honey, snack bars, syrup, and jam which you can grab while you are there for your blueberry picking adventure! You can also follow them on Facebook https://www.facebook.com/Hunters-Moon-Farm-764648210260935/
Crescent Harbor Blueberry Farm: 2726 Laurel Lane, Oak Harbor.
If you're looking for more of a "private" blueberry picking experience. Crescent Harbor Blueberry Farm is the place to go, and they don't stop at blueberries! This small, family farm also offers raspberries, Marion berries, tayberries, and boysenberries. U-Pick berries at Crescent Harbor are available by appointment only. To make your appointment and get updates on the crop availability, give them a call at 360-679-4210.
K&R Farms The Stand: 36699 SR 20, Oak Harbor.
Previously known as Dugualla Bay Farm, K&R Farm "The Stand" is making its presence known in Oak Harbor. Stop by for a U-pick strawberry and raspberry experience, then reward your hard work with a hearty serving of ice cream! The Stand has not released their U-Pick days just yet, so you will want to follow their Facebook page for updates on their crop, and hours of operation as it changes from week to week. https://www.facebook.com/KandRFarmsLLC/
Map of UPick Berry Farms:
You might also like: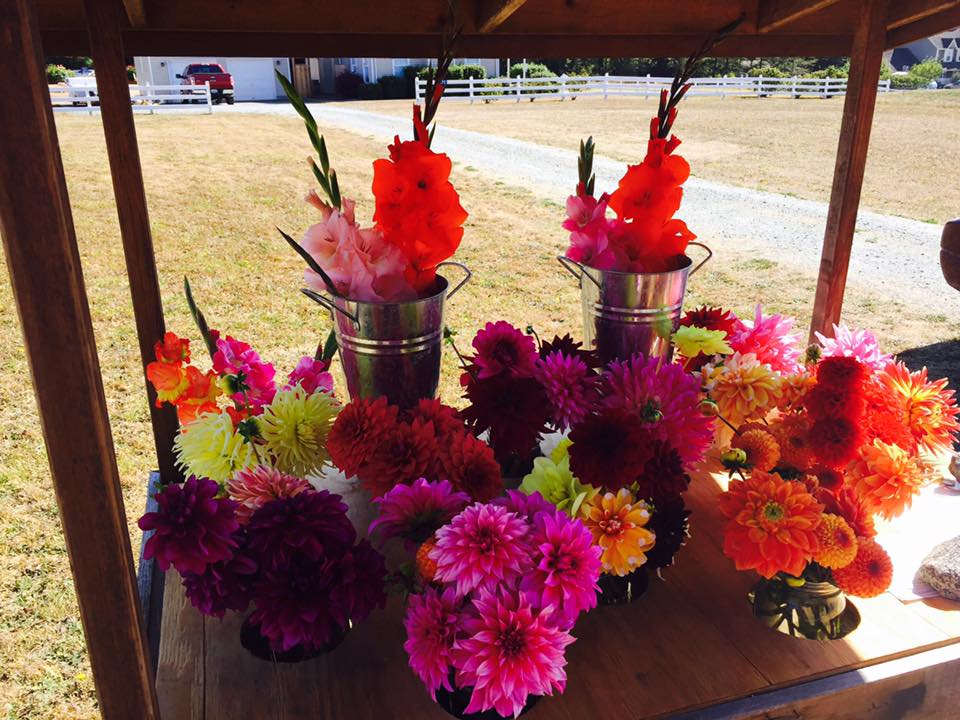 Whidbey Island Pop-up Flower Stands
Summer on Whidbey is a magical time for many reasons but one of the most idyllic reasons is the beautiful little flower stands that pop-up all over the Island as the ground warms up. They're almost all honesty stands, which speaks to the culture we enjoy in this community and they are run by individuals who operate them almost as a labor of love! If you don't drive past one on your daily "commute" you may not even know they exist or how many are out there so we created a map for you! This shows the most well-known stands in the Oak Harbor and Coupeville area. We would love to add more! If you know of any additional stands please send us pictures, a specific location, what they typically offer, cost, etc. and we will add it to the map!
Whidbey Island Pop-up Flower Stand Map
You might also like: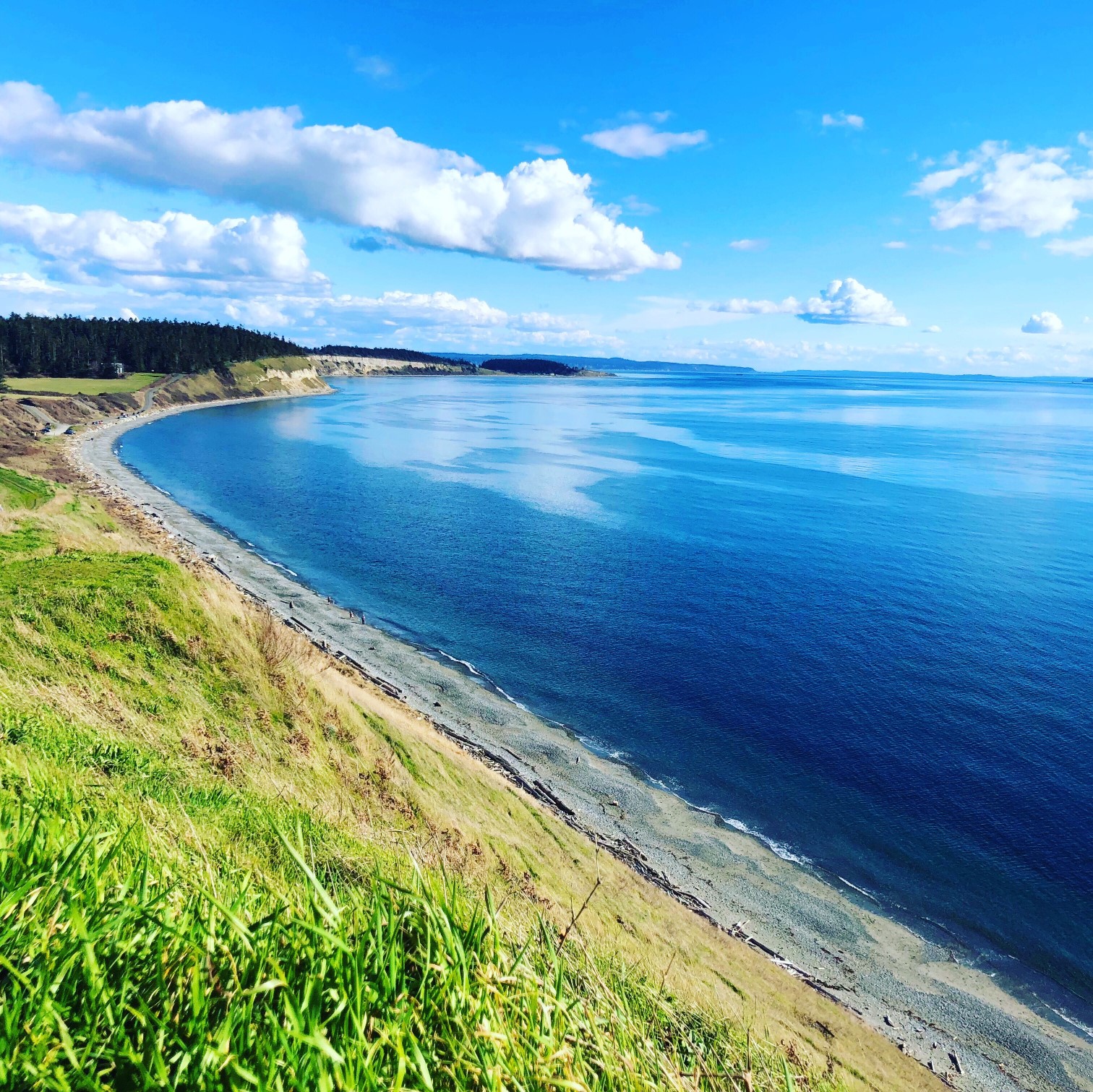 A historical living landscape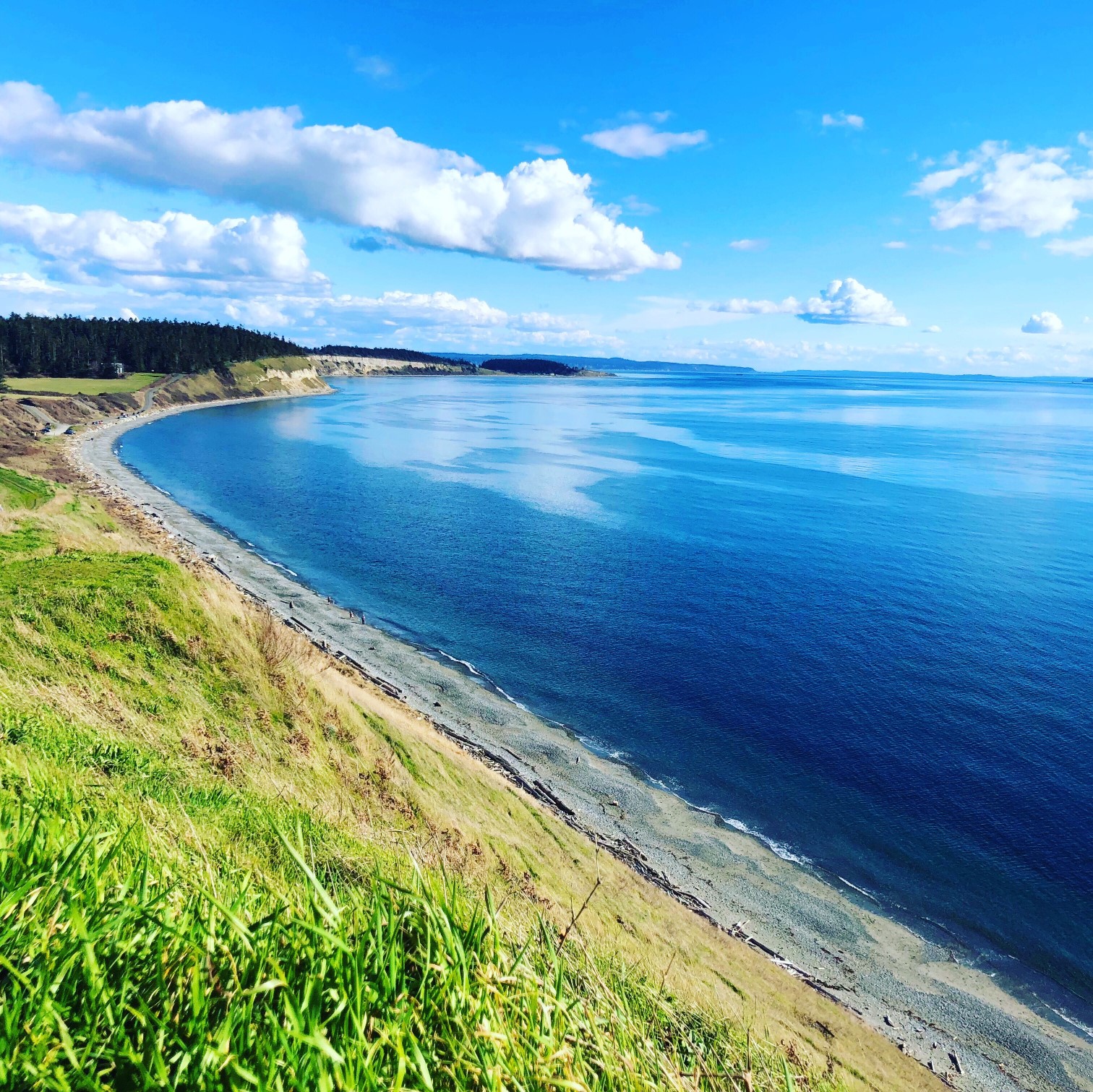 You may have heard of, or even spent an afternoon hiking the bluff on Ebey's Reserve. It's spectacular landscape, and unparalleled views of Admiralty Inlet and the Olympic mountains are a treat for the eyes and refreshing to the soul. But, while you are busy soaking it all in, you may not realize how Ebey's Reserve is a preservation of not just human history but a preservation of how humans interact with the land and nature.
As Early as 1300, Western explores began inhabiting central Whidbey because of the abundance of natural resources from both land and sea. However, it wasn't until 1851, by suggestion of his friend Samuel Crockett, that Colonel Isaac Neff Ebey claimed land on Central Whidbey. Ebey was delighted with the area and wrote home urging his family to join him. Soon after hearing about the paradise Ebey described, they emigrated to and settled on the island, making the Ebey family one of the first permanent settlers on the Island.
  During your visit, you can still view the home of Colonel Isaac's father, Jacob Ebey, and his blockhouse that was built to protect and defend his claim of the island from Indians.  The house sits overlooking the prairie that is now known as Ebey's landing and stands as a memoir to the beginning of life on Whidbey Island.
       But, the story doesn't end there! In addition to farmers, central Whidbey attracted sea captains and merchants because of the protection Penn Cove offers and the high value timber for shipbuilding. One of the many settlers that made their way to Whidbey was the daring Captain Thomas Coupe, who astonished his fellow seafarers when he sailed through Deception Pass in a full-rigged ship, a risk very few were willing to take. Coupe then claimed 320 acres of land on Central Whidbey, that later became our beloved town of Coupeville.
Protected by the National Parks and Recreation Act of 1978, Ebey's Reserve stands as a historical living landscape that promises the same experience for generations to come. It is a place to enjoy the unchanged views, celebrate and honor the history of the area, and preserve the natural resources that attracted so many here in the first place. Ebey's Reserve is a true treasure of Whidbey Island, no matter how many times you visit you will always return feeling like it's the first time.
Suggested links:
Our favorite hike in Ebey's Reserve is the "bluff trail" https://www.alltrails.com/trail/us/washington/ebeys-landing-trail
To learn more about life on Whidbey in the past visit the Museum
https://www.islandhistory.org/
For ways to get involved, attend events or support the Reserve http://www.friendsofebeys.org/events.html
For more about  Ebey's Landing visit them on the web http://www.nps.gov/ebla
Follow Ebey's Landing on Instagram https://www.instagram.com/ebeyslanding_nhr/?hl=en
If you liked this blog you might also like: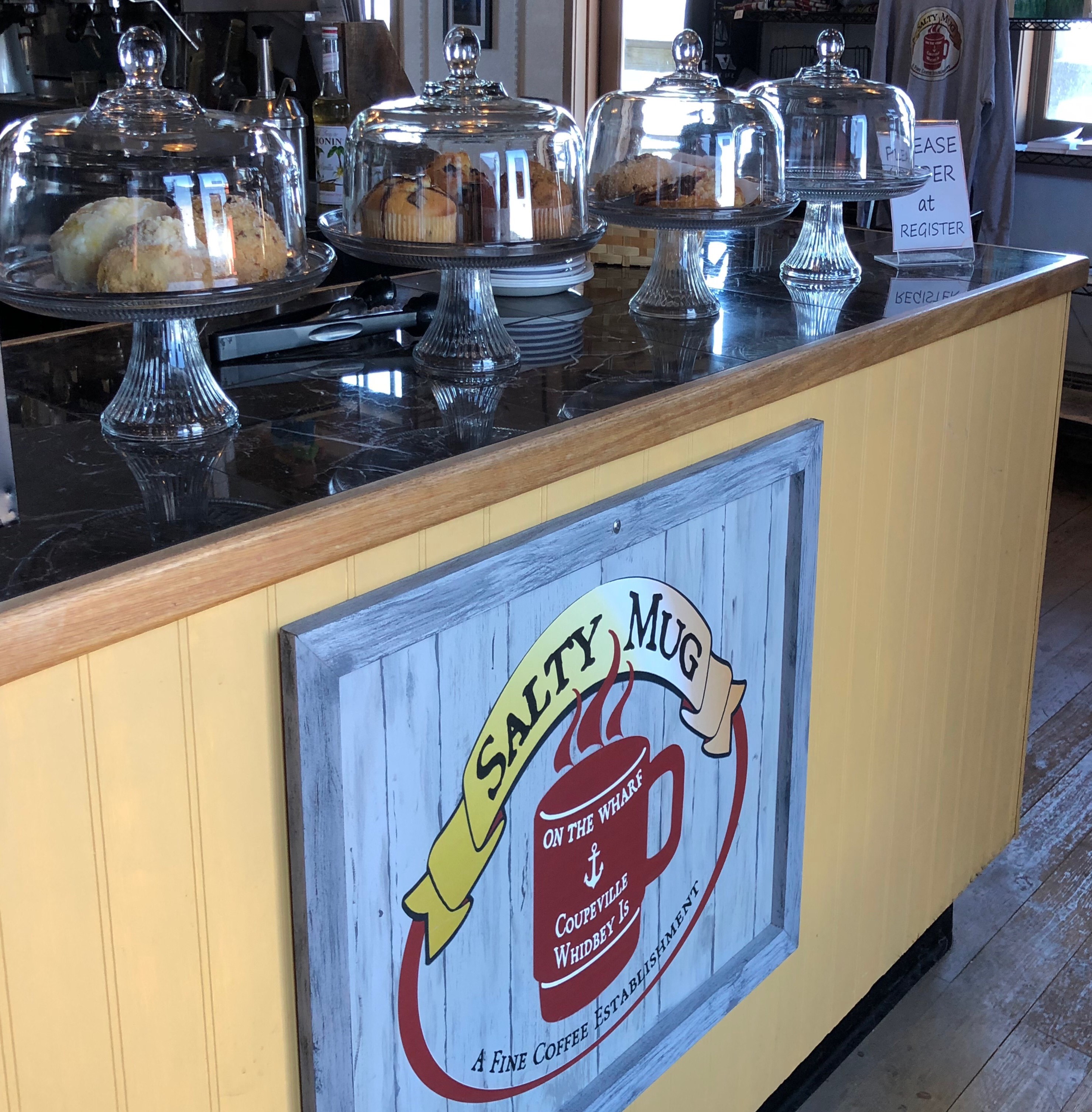 Looking for that extra special coffee?
You cannot beat this specialty salted caramel coffee drink, named "The Salty Mug" from… well The Salty Mug.
Take a stroll down the Coupeville Wharf and you will come upon a beautiful red barn nestled by the waves at the end. Inside you will find a gift shop, a restaurant and The Salty Mug coffee shop. Don't forget to look up and see Rosie the Gray whale while inside as well as the Handsome Samson & Rudy!
Towards the back of the building you will discover a small entrance to a quaint coffee shop, The Salty Mug. Inside you will notice art hanging on the walls featuring local artists, fresh baked goodies lining the counters and the aroma of freshly brewed coffee. There is cozy seating inside with glorious views out the windows looking across Penn Cove allowing you to enjoy the view even on the chilly days.
Ask owner David Howell (pictured) and his wife Pat what their suggested drink is and they will say, "the salty mug of course" they are not kidding.  OH MY GOODNESS it is so good you will not want to try anything else.
Finally, escape from reality as you venture out the side doors onto their beautiful patio. It is here you get to see some of the most beautiful views on the island. Why not sit awhile and smell the crisp sea breeze and listen to the local wildlife splash in the water. Did I mention the view? Seriously, what is better than a warm cup of coffee while looking at the majestic snow capped mountains across the ocean?
For more about The Salty Mug  click here.
Video on the History of the Coupeville Wharf:
Keep a watch out for other blogs:
Harbor Gift N'Kayak Rental
The cove Café
Looking for a little sunshine on a cloudy day?
Stop by Sunshine drip in Coupeville, the one-stop shop that never disappoints. No matter what time of day, sit down for a steamy cup of coffee or a scrumptious meal. Then be inspired by their ever-changing décor, that is also for sale. Yep, you heard that right, it's FOR SALE! This cozy little shop will give you the perfect excuse to spruce up that hall table that has been collecting dust for a while…. You know which one we are talking about. Perhaps you need a little inspiration for your new home, and don't know where to start. Sunshine Drip offers a large selection of unique décor that will surely have you leaving with a bag full of new things. Your mind will be exploding with ideas!
Not only do they carry some of the coolest décor, they also feature one of a kind jewelry, accessories, skin care, candles, coffee mugs, and so much more! Many of the items they sell are hand crafted and locally made, making them great gifts for friends and family. Maybe you will even find a little something for yourself.
We love a place you can shop and eat all in one spot, and you won't want to leave without at least grabbing a cup of coffee and some home-made baked goods! If you're there for lunch, we recommend giving their Fruit and Greens salad a try! The house made blackberry vinaigrette dressing, fresh greens, fruits, and generous portion size make it a favorite. However, if salad is not your thing? Try their paninis, they are made with fresh oystercatcher bread and bursting with delicious flavor.
If you've ever paid a visit to Sunshine Drip let us know what your favorite menu item is! If you have yet to visit, you're missing out! So, once you give it a try we'd love to hear all about it!
Check out their website here.
You've probably seen it, the Valentine's décor and candy lining the shelves at just about every retail establishment you visit. This could only mean one thing… Valentine's Day is just around the corner!
With this year's love holiday fast approaching, you may be thinking of the perfect place to take your sweetheart. Well, look no further! We are going to highlight over the next few days, two of our favorite local places Oak Harbor, Coupeville, Anacortes.
Oak Harbor #1 – Frasers Gourmet Hideaway
Beloved by many, Frasers is a favorite in Oak Harbor. In fact, the Oak Harbor Ukaladies even recommend stopping by "Frasers for Crème Brule" in their video, "Oak Harbor Love Song". (Link: https://vimeo.com/200834285 ). Frasers is known for their gourmet dining experience and superior menu options that range from seafood to chicken and waffles. The menu at Frasers changes with the seasons to take advantage of fresh local ingredients, giving you a wide variety of options to choose from. After you've indulged on your unique dish, don't forget to grab some dessert! The Crème Brule perhaps?
Oak Harbor #2 – Blue Fox Drive-In
Another Oak Harbor favorite, the Blue Fox Drive-in never disappoints! Cozy up with some blankets and pillows in your car, and feel like a teenager again sneaking in some kisses during the film. The snack bar is loaded with all your favorite comfort foods, candy, and of course popcorn smothered with buttery goodness! If you really want to bring out your inner child, win some prizes at the arcade while you wait for the movie to begin, or take a ride on the go carts (only open in Spring/Summer). The Drive in is a timeless activity that is fun for all!
Coupeville #1 – Christopher's on Whidbey
Located in Coupeville, Christopher's is the perfect place if you're looking for a casual dining spot, with the experience of a high-end restaurant. Exclusively on Valentine's day, Christopher's is serving a special "Valentine's dinner for two". You will enjoy a 4-course meal that is thoughtfully prepared by Master Chef, Andreas Wurzrainer. Chef Andreas is known for preparing meals at 4-star restaurants in Europe, aboard luxury expedition ships, and at the Olympic Four Seasons Hotel in Seattle. With his expertise and talents in the kitchen, your taste buds are sure to be delighted! Make a reservation soon because the intimate dining room fills up fast.
Coupeville #2 – Ciao
Maybe a fancy meal just isn't your style… If that's the case, check out Ciao in Coupeville! Ciao is known for their fresh Neapolitan (Link to site: http://ciaocoupeville.com/tradition/ ) pizza "made the old fashioned way", and creamy Gelato with flavors changing through the seasons. Ciao is a real treasure of Whidbey Island, making it an excellent place to take that special someone. To hear from the owner himself about what makes Ciao unique check out this video (link to Simona's Ciao video https://www.youtube.com/watch?v=B7o-bEZIa_0 )
Anacortes #1 – Ciao Bella
Another Italian gem, Ciao Bella in Anacortes is small but offers a superb dining experience! With candles on the table, soft lighting, and pasta on the menu (Lady and the Tramp anyone?), you couldn't ask for a more romantic setting. Ciao Bella serves a variety of authentic Italian dishes, made fresh and in house daily, as well Italian beers, making it feel like a real Italian get-a-way!
Anacortes #2 – Dad's Diner
Who says a great date can only happen at dinner time? Try out a brunch date at Dad's Diner in Anacortes! Dad's Diner will make you feel right at home with the inviting atmosphere and friendly service. Known for their exceptional breakfast and house made smoked meats, Dad's Diner continues to be a favorite among locals and tourists alike. Dad's Diner gives you a cozy diner setting complete with chalkboard menus, seat yourself service, and food that has enormous flavor! Dad's Diner is great for a casual and relaxed date, without missing out on an exceptional dining experience.
Whidbey is packed with local treasures. You really don't have to go far to find a place that will make your Valentine's Day extra special!