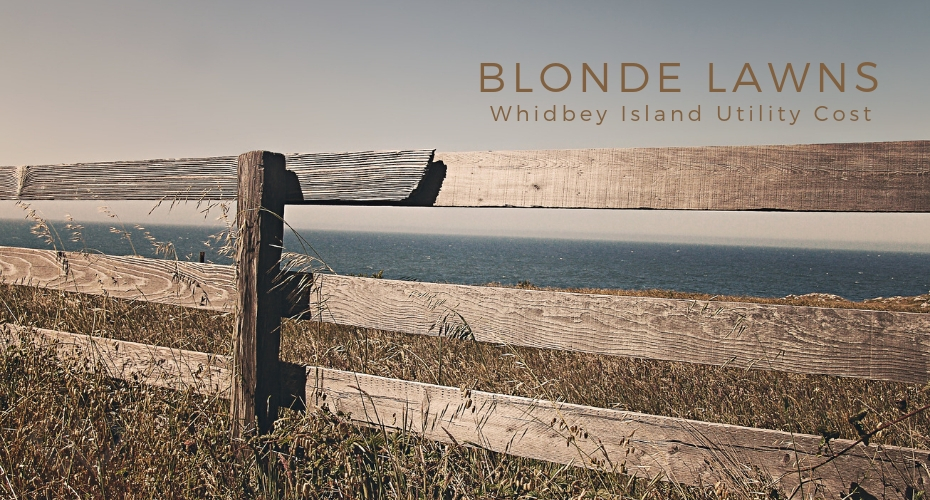 Blonde Lawns on Whidbey Island
Hello Summer! Can you believe it's here? That beautiful time of year filled with beach walks, swimming lessons, trips to Kapaws Iskreme and so much more! Here on Whidbey we have countless summer traditions we treasure greatly.  From our Old Fashioned 4th of July Celebration to the Whidbey Island Fair, there is so much to cherish about this time of year. One tradition you may be unaware of is actually more of a movement.
Blonde Lawns.
Through the course of the summer months you can watch the emerald grass of this evergreen island fade to a sandy shade. Before you know it, this rock will be rocking a brand new blonde look.
What's with the lack luster lawns? Well, it all has to do with conservation.
It's no surprise to anyone that Whidbey tends to be a rather environmentally conscious. We love taking the extra step to ensure the beauty and resources we enjoy today will be around for tomorrow. One of those resources we care deeply about are our aquifers.
Aquifers:
Aquifers is the scientific term for ground water. Deep below the grass you walk on are pockets of "permeable" soil which store water that can then be tapped into for use. Annually these aquifers are recharged by the rain that falls to the ground.
According to Island County, Whidbey Island's sole source of potable water comes from the ground.1 Sounds great, right? I mean, it's Washington and it rains here. We should be good.
Unfortunately, not all is good in the aquifer hood.
According to a report released by the Washington State Department of Ecology, "increasing demands for water from ongoing population growth, declining stream flows and groundwater levels… have put Washington's water supplies at risk." Whidbey is by no means immune to this water depletion; in fact, seawater intrusion and our lack of rain fall in comparison to the rest of Western Washington puts us in a pretty tight spot.
So, what does this have to do with the blonde lawns of Whidbey (I think you can guess).
The summer months, when there is little rain, poses a particularly difficult dilemma for island aquifers. Between keeping ourselves hydrated in the summer sun, watering plants, animals, and filling the pool in the backyard we use A LOT of water.
This increase of use and lack of resource hits hard on our aquifers and our wallets! Many newcomers to Whidbey are shocked when that first summer water bill comes in. The rules of supply and demand are no strangers to Whidbey Island water.
So how can we save our aquifers (and our wallets)? By going blonde!
Grass is far more durable than people sometimes realize. More times than not the golden grass that takes over Whidbey in the summer will be green again by next spring. Blonde lawns DON'T mean dead grass.
So, save yourself time, money, hassle and save our precious resources. Let your lawn go blonde!
Resources:
You might also like: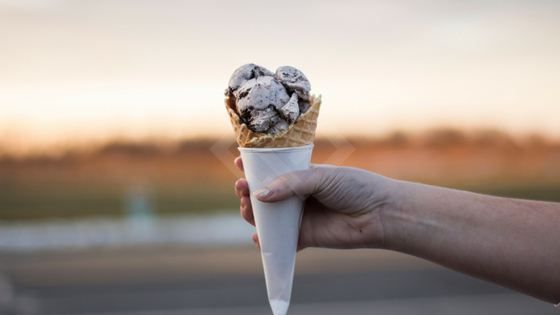 Summer Time Sweet Treats
What do you do to keep cool in these hot summer months? One of our favorite things is to head out for a cold and sweet treat! Thankfully, Whidbey is home to some amazing places for just that!
KAPAWS Iskreme – 21 Front St NE, Coupeville
One of Whidbey Island's best-kept secrets, KAPAWS is a favorite stop for some amazing ice cream and quaint small-town atmosphere. We highly recommend grabbing one of their fresh waffle cones that you can smell a mile away. The best part is their $1 kid cones – for kids only! Open 7 days a week from 11 am to 5:30 pm, KAPAWS offers friendly service, generous portions, and reasonable prices that won't disappoint!
Ciao – 701 Main St N, Coupeville
You may be surprised to learn that Ciao isn't just about the amazing pizza. Every day, gelato is made in-house from a recipe created in the 1700's! Made from milk rather than cream gelato sports a velvety texture that will make your taste buds dance. Stop by Monday through Saturday 11am-8pm to try out one of their many flavors. We especially love their Affogato, which is gelato floated in espresso! Yum!
K&R Farms "The Stand" – 36699 SR 20, Oak Harbor
If you've ever driven toward Anacortes, you probably noticed the farm stand on highway 20. K&R Farm's "The Stand" is a favorite stop for local produce, fresh beef, ice cream, and many other tasty delights. Recently, The Stand started serving Hawaiian shaved Ice and it has been a big hit! Hawaiian shaved ice differs from your run of the mill snow cone because of the soft snow-like texture that absorbs all the flavor of the syrup and makes for a refreshing treat! You can visit the stand 7 days a week from 11 am to 6 pm.
Toppins – 32650 SR 20 A101, Oak Harbor
"Frozen yogurt your way" is our favorite way to describe Toppins. With 12 different frozen yogurt flavors and 80+ topping choices, all self-serve, you can create your own dessert masterpiece. What's even better is that it doesn't stop there! Toppins also offer's floats made with your frozen yogurt flavor choice. We really enjoy their pineapple float with its refreshing flavor that is perfect for summer. You can stop by for your cool off treat from 11 am to 10 pm Monday through Saturday and 11 am to 9 pm on Sunday.
Café de Lisio – 957 Ault Field Rd, Oak Harbor
It may be easy to miss, but Café de Lisio is famous locally! Their "mile-long" menu of creative combinations for all their delicious coffee drinks may be overwhelming so just tell the barista what you're after and they can suggest one for you. Everything can be done icy cold and kid friendly! Our favorite cold menu item is the Attitude Adjuster, and trust us, you will not be disappointed. The café and drive through are open from 5am-6pm Monday through Friday and 6am-5pm Saturday and Sunday for your convenience.
If you liked this blog, you might also like: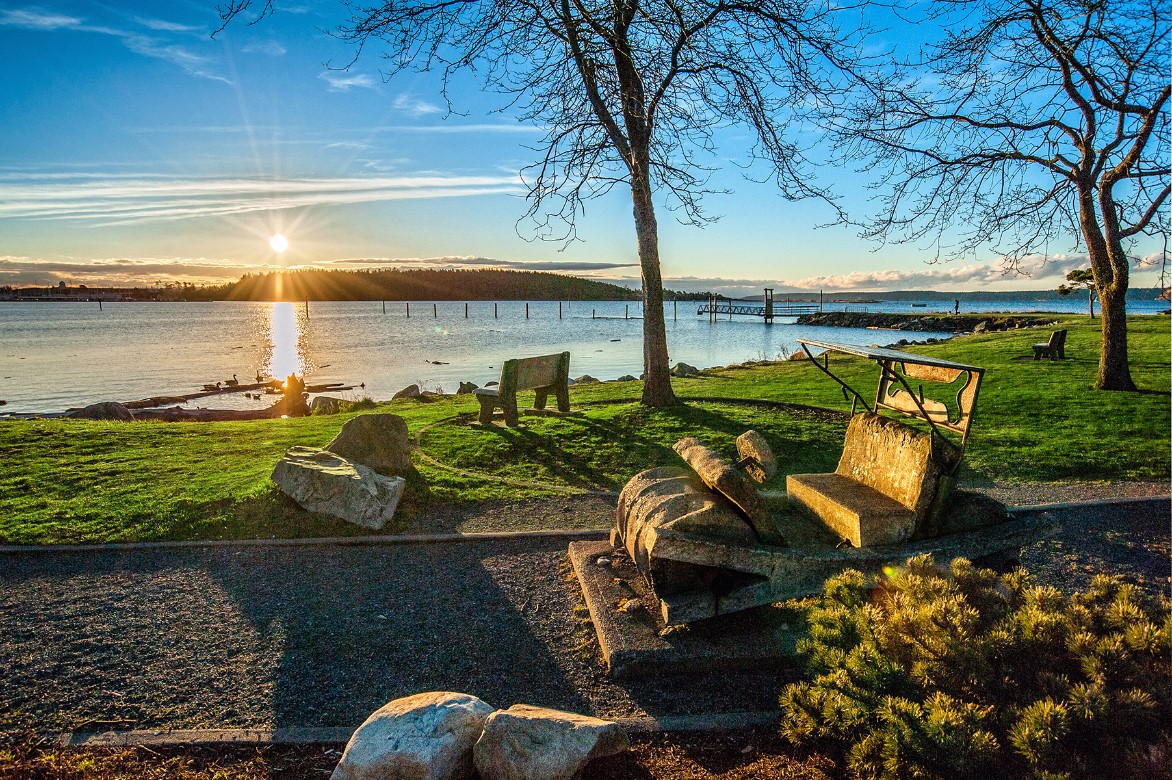 Parks in Oak Harbor
With summer winding down, we love to get outside and enjoy that glorious sunshine, and what better way to do that than visit some of the many parks in Oak Harbor? We love these parks because they are close by which makes them perfect for an after-work picnic or an evening out in the fresh air.
Flinstone Park and City Beach
Have you ever noticed the famous Flinstone car on Bayshore Drive? You guessed it! That would be Flinstone Park which connects to City Beach. This is a perfect place to take a walk down the boardwalk, look for hidden treasures on the beach, build a driftwood fort, or sit and enjoy the scenery on one of the many benches along the beach. Another thing we love is that it is close to downtown shopping, and restaurants! We love to grab an ice cream cone at Popsies and take a stroll through the park.
Fort Nugent
Ft. Nugent Park offers a wide variety of things to do for kids and adults alike. Soccer, Football, and Baseball fields take up a large portion of the park providing plenty of space to run free, kick a ball, play catch, or practice your batting skills. A large wooden Castle-like play structure is a favorite among the kids in Oak Harbor and is what gives this park its nickname "Castle Park". A large disc golf course runs throughout the wooded area of the park which makes for beautiful walking trails to enjoy.
Joseph Whidbey State Park & Rocky Point Beach
Joseph Whidbey State Park is a favorite of Whidbey residents thanks to its cool hiking trails and beach with beautiful views of the Strait of Juan De Fuca. A covered picnic area, grills, picnic benches, miles of beach to comb for treasures, and hiking trails to venture make this park a great place to have an adventure or family day in the sun. When the wind is blowing hard this is a favorite spot for kite surfers too which makes quite a spectacle!
Dugualla State Park
While Dugualla State Park may technically be part of the famous Deception Pass State Park, it is virtually untouched. Dugualla is a peaceful place with hiking trails, spectacular scenery, and a beach area to explore. Not many people know of this hidden gem making it a great place to enjoy quiet and nature.
Deception Pass State Park
This may seem like an obvious choice, but there is so much to love about Deception Pass State Park we had to include it! Chances are you've only seen a portion of all it has to offer. The iconic bridge, beaches, hiking trails, and lakes offer so much variety it can take years to explore every aspect. You can swim at Cranberry Lake, spot critters along the beaches, hike one of the many trails throughout the park, enjoy a picnic at a covered picnic area, and soak in a gorgeous sunset over the sound all in one place. Our 5 favorite "hidden" features of this massive park are as follows…
Hoypus Point is on the opposite side of Hwy. 20 from the main part of the park. Just take Cornet Bay Rd. East till it dead ends.
There is a little cabin you can rent on Ben Ure Island but you have to have your own kayak, canoe or other human-powered watercraft to get there!
Rosario Head is a favorite well-worn path out to the most spectacular point and vista. Don't miss reading the legend of the maiden Ko-kwahl-alwoot on your way or the tidepools! Best way to get here is the trail connecting to Bowman Bay.
Pass Lake is known for its fly fishing but few know about its miles of quiet and heavily wooded trails on the West End.
The path to Lighthouse Point from Bowman Bay is spectacular! Little inlets, views of the bridge, and a variety of native foliage make this a visually stunning hike that is worthy of repeat visits.
Oak Harbor offers so many different parks to enjoy, and these are just a few. What are some of your favorite parks to visit? We would love to hear about them!
Take a Closer Look at the Parks in Oak Harbor:
You might also like: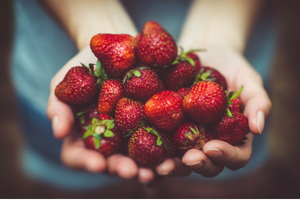 UPick Berries
There is nothing that will make you appreciate delicious berries more than the sweat and work that goes into picking them. Working for those juicy goodies will only make them taste even better, and that's why we love the opportunity to visit local farms for their U-Pick berry events. There are several farms on Whidbey Island that give you the chance to take the family and pick your own strawberries, blueberries, and raspberries!
Bell's Farms: 892 West Beach Rd, Coupeville.
Bell's Farms is practically famous on Whidbey Island for their plump and juicy strawberries. They host the annual Strawberry Daze Festival where you can not only pick strawberries, but also enjoy a glass of strawberry lemonade and other delicious strawberry treats while you are there. Bring the kids they have a petting zoo and fun activities too! UPick strawberry season can vary so follow their Facebook page for real time updates.  https://www.facebook.com/Bells-Farm-164501900234634/
Bonnie's Blueberries: 4414 N Jones Rd, Oak Harbor.
Boasting of 75+ year old blueberry bushes, Bonnie's Blueberries is the perfect place to pick your own fresh Rubels, Atlantic, and Jersey blueberries. This small, mother and son run business is a favorite in Oak Harbor due to their welcoming personalities and of course the delicious blueberries! Their blueberry season typically runs somewhere around July 1st through September 31st, however the blueberry crop is totally dependent on mother nature. For updates on Blueberries and when they will be ready, call 360-679-3600. If you just can't' wait that long Bonnie's Blueberries offers frozen berries year-round, just call to place your order!
Hunter's Moon Farm: 935 Bunch Lane, Oak Harbor.
Hunter's Moon Farm, a certified organic blueberry farm, provides the chance to pick a variety of late season blueberries. The farm is open Tuesday, Saturday, and Sunday from 10-4pm and the blueberry season is expected to begin the end of July and run through the middle of September. To stay up to date on their season and other happenings around the farm, you can sign up for their mailing list here: http://huntersmoonorganics.com/ . Hunter's Moon is also known for their blueberry honey, snack bars, syrup, and jam which you can grab while you are there for your blueberry picking adventure! You can also follow them on Facebook https://www.facebook.com/Hunters-Moon-Farm-764648210260935/
Crescent Harbor Blueberry Farm: 2726 Laurel Lane, Oak Harbor.
If you're looking for more of a "private" blueberry picking experience. Crescent Harbor Blueberry Farm is the place to go, and they don't stop at blueberries! This small, family farm also offers raspberries, Marion berries, tayberries, and boysenberries. U-Pick berries at Crescent Harbor are available by appointment only. To make your appointment and get updates on the crop availability, give them a call at 360-679-4210.
K&R Farms The Stand: 36699 SR 20, Oak Harbor.
Previously known as Dugualla Bay Farm, K&R Farm "The Stand" is making its presence known in Oak Harbor. Stop by for a U-pick strawberry and raspberry experience, then reward your hard work with a hearty serving of ice cream! The Stand has not released their U-Pick days just yet, so you will want to follow their Facebook page for updates on their crop, and hours of operation as it changes from week to week. https://www.facebook.com/KandRFarmsLLC/
Map of UPick Berry Farms:
You might also like: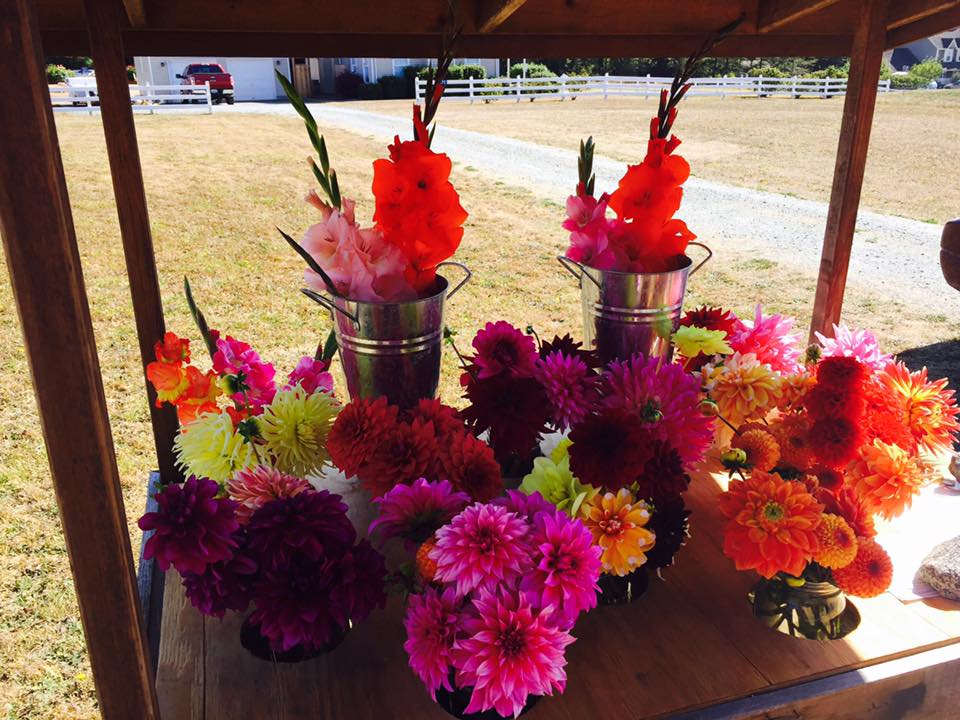 Whidbey Island Pop-up Flower Stands
Summer on Whidbey is a magical time for many reasons but one of the most idyllic reasons is the beautiful little flower stands that pop-up all over the Island as the ground warms up. They're almost all honesty stands, which speaks to the culture we enjoy in this community and they are run by individuals who operate them almost as a labor of love! If you don't drive past one on your daily "commute" you may not even know they exist or how many are out there so we created a map for you! This shows the most well-known stands in the Oak Harbor and Coupeville area. We would love to add more! If you know of any additional stands please send us pictures, a specific location, what they typically offer, cost, etc. and we will add it to the map!
Whidbey Island Pop-up Flower Stand Map
You might also like: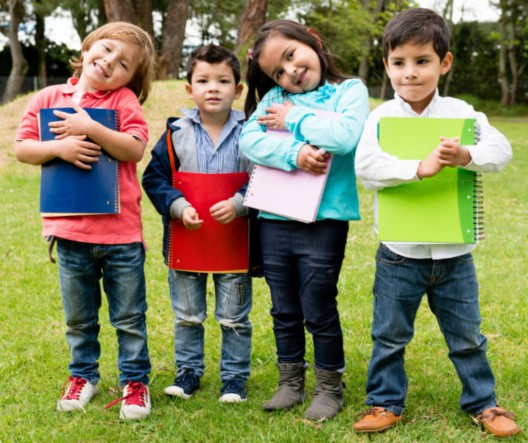 Summer Programs for Kids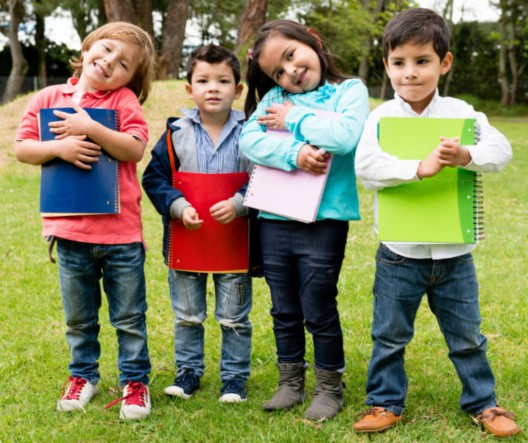 With only a few weeks left in the school year, the thought of having the kids home all day is probably on the forefront of your mind. What will you do to keep the kids busy this summer and keep their little minds engaged? A perk of living on Whidbey in the summer time is that there are plenty of opportunities for the kids to get outside and play. On top of the longer play hours and beautiful weather, Whidbey offers a variety of programs the kids can get involved with throughout the summer.
Sailing Camps are offered for kids ages 9-15 by Oak Harbor Youth Sailing. These week-long camps begin June 25 and run through July 30 from 11:00AM – 4:30PM. See https://www.oakharboryouthsailing.org/registration-information for more information on registration and pricing.
The Camp Casey Pool is open to the public on June 16th and is open every day (except for Sundays) from 12-5pm. Admission is only $5 per person, with the option to purchase a punch card for frequent visitors. The Camp Casey Pool also offers American Red Cross swim lessons for ages 4 and up. Click here for swim lesson dates and prices : http://spu.edu/depts/casey/Recreation/swim-lessons.asp .
The Whidbey Playhouse will host their 4th annual Youth Summer Theater Workshop July 9th through August 2nd. This workshop is a great place for young actors and actresses to learn new skills and get comfortable on the stage. For more information on the course, pricing, and registration click here: https://www.whidbeyplayhouse.com/summer-camp .
The Whidbey Children's Theatre in Langley is a great place for kids to get involved in theatre, participate in shows of their own, and take classes to work on their skills. Classes are offered for kids as young as 4 up to 19 years. For more information on how your kids can get involved, check out their website here: http://wctmagic.org/ .
Summer Dance Camps are offered through Leaps & Bounds Dance and Tumbling Center for children ages 3-5. Week-long camps begin on June 5th with the last camp beginning on July 24th. Each week has a different theme, perfect for those who want to continue past their one-week camp. For more information regarding registration and pricing, click here: http://danceoakharbor.com/summer_camps .
Sno-Isle Libraries offer some really fun summer reading programs and activities in both Coupeville and Oak Harbor. Their annual "Explore Summer" program for kids begins on June 1st, along with a variety of other reading activities throughout the summer. This is a great way to keep your kids fresh on their reading skills and continue learning during those months away from school. For more information visit their website at https://www.sno-isle.org/summerteens/ .
Sign your kids up for the Kids Bowl Free program! Oak Bowl in Oak Harbor participates in this program, where kids can bowl up to 2 games per day for FREE. Find out more information and get your kids signed up by clicking here: https://www.kidsbowlfree.com/index.php .
Create your very own glass art at Callahan's Firehouse in Langley! Callahan's Firehouse offers the unique experience of glassblowing and the opportunity to make your very own creation. Ages 5 and up can participate by choosing their own colors for their art and be guided through each step to creating their very own masterpiece! Visit their website to schedule your appointment and read up on important information before your visit. https://callahansfirehouse.com/schedule-glassblowing/ .
You can never go wrong with a trip to the Blue Fox Drive-In. With an arcade, go-karts, and a huge selection of yummy snacks, the Drive-In is a treat for the whole family. The longer daylight hours will make for a late start on the movie, but just think of the sleeping in that will be happening the next day! Check out their website to see what's playing each week, along with their weekly concession deal. http://www.bluefoxdrivein.com/ .
For military families, take advantage of the Youth Activities Center and the wide variety of programs to take place throughout the summer. The Youth Center is available to kids ages 12-18 of active and retired military, DOD civilians, and DOD contractors. Different programs are available for different interests (art, team sports, video games, etc.) as well as volunteer opportunities and field trips to different places. Learn more by clicking here: https://whidbey.navylifepnw.com/programs/92723cd7-11c2-4e97-9e22-1f663d448a94 .
As you can see, there is no shortage of things to keep the kids occupied this summer. What are some summer activities your family enjoys?
Events you might also like: